Writing, meditation and breathwork to awaken your authentic self.
Bali, Indonesia | May 4th to 11th, 2024
A Note From David and Scott
We are incredibly excited to invite you to join us on a journey, a celebration, an awakening into your heart, mind and body. We're gathering in the jungles north of Ubud—Bali's cultural heart—from May 4th to 11th, 2024, to take a dive inward and explore what it looks like and how it feels to live into our most authentic selves.
Ubud, and the surrounding region, is more than just a location. It's a vibe, a spirit that encourages self-discovery and deep connection with nature. We're calling this retreat Sacred Bali because the energy of the land and people feels deeply sacred, creative, and empowering, and invites each of us to recognize the sacredness of ourselves.
During this week-long retreat, we aim to cultivate a nurturing space where you can feel free to express yourself openly and wholeheartedly. We'll meditate together, do transformational breathwork, and use writing as a means of enlightening self-reflection. And, most importantly, we'll be sharing this experience with like-hearted humans committed to their evolution. It's going to be a love-fest!
David has spent months in Bali over the years and has led numerous retreats there. He knows the best places to go and most fun and enriching activities to do. He's chosen Bagus Jati as our retreat center specifically for its unreal location in the jungle, its amenities, beauty and energy. Without question, you will be blown away by this place.
We won't, however, be confined to the retreat center the entire time. We've carved out an itinerary rich in Balinese culture and breathtaking beauty, all of which will complement the healing work we'll be doing together. We'll be venturing to the summit of Mount Batur, for a glorious sunrise, incredible views, and hopefully some cool monkeys! We'll be taking a trip to Pura Tirta Empul, where we'll participate in an age-old purification ritual at the Holy Spring Water, offering a chance to wash away the old and make room for new beginnings. And, of course, we'll be visiting the lively, artsy, one-of-a-kind town of Ubud. 
We haven't even mentioned the spa treatments, swimming pools and insanely delicious Balinese cuisine. This will be, in every way, a transcendent experience, steeped in love, fun, and connection. Yes! All of that and so much more. We can't wait to spend time with you there!
With love,
— 
David and Scott
The Sacred Bali Retreat will include:
Guided meditation 
Breathwork
Yoga
Writing 
Delicious, locally-sourced meals
Early morning mountain hike for sunrise at Mount Batur
Visit to the Holy Spring Water of Indira for blessings
A day trip to Ubud
Free time to relax and explore on your own
A free massage at the retreat center
A supportive community of like-minded individuals
Unique accommodation
A special last night dinner party
Airport pickup and drop-off
Expect to go deep, to gain clarity, to strengthen your relationship with yourself, to eat fabulous food, to laugh at David's bad jokes, and to have so much fun throughout it all. 
"Surpassed all of my expectations"
My recent retreat to Nepal surpassed all of my expectations. Now that I am back stateside, it is surreal to think about the experiences I shared with people who were strangers merely 2 weeks ago that I will now consider to be lifelong friends. David and Jordana attracted a crowd with amazing energy and created a safe space allowing folks to be vulnerable while weaving in humor and joy. It's a tough balance to strike but once achieves, it unlocked limitless potential which was felt by everybody.
From the morning meditations and yoga sessions to the trek through the Himalayas to site seeing and meetings the children at the orphanage, everything was well thought out and executed to perfection. I could not recommend this enough and am already planning my next retreat!
— 
Scott Brennan,

 
Colorado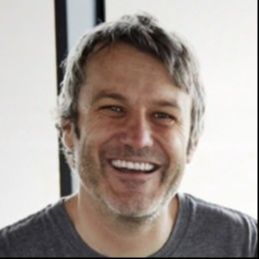 "Expectations well exceeded!"
Expectations well exceeded! I was of course curious about travelling to Nepal but my expectations were well exceeded as it was a perfect combination of the minute by minute surprise of a brand new country, yet well supported by the brilliant organisation and planning of the organisers. The combination of new people, yoga, meditation, and incredible scenery and the people and animals and plants of Nepal...it is hard to describe just how good it is. But imagine a day of climbing - yes hard but not exhausting - through mountain forests, looking at huge mountains above you, with the great people of your trip and meeting wonderful the new people of Nepal, patting a rooster, and eating well all day and laughing at night, followed by meditation and sleep and then doing it again the next day after some yoga. Absolutely life changing and completely loved it.
— James Roden,

 

Australia
"This retreat was magical"
This retreat was magical. I'm deeply grateful for every moment. I felt safe and supported as our group explored Nepal together. Connecting with the land, the wonderful people in our group and in Nepal, the animals, and the many sacred spaces throughout the journey was life changing. Trekking, doing yoga, and meditating in the Himalayas was an amazing adventure. Visiting the orphanage, connecting with the children, and being of service was such a beautiful experience. It's hard to properly express how much this trip has meant to me. I would highly recommend this retreat to all. Thank you so much.
—
Melissa Sabino, 
California
"Reminded me how much good there is in the world"
I did not know what to expect as I have never done a retreat before, I can now say that it is an awe inspiring experience. There is a lot that happens - trekking, yoga, mediation, talks, joy, laughter, visiting an orphanage, spending time in a monastery and a good dose of self reflection. The deep friendships we formed through these shared experiences has reminded me how much good there is in the world.
Travelling expands your heart and soul... travelling with teachers like David and Jordana takes that expansion to the next level.
—
Leila Jeffreys, 
Australia
Accomodation
Teachings from David, Scott & Guest Teachers
Meditation
Breathwork
Journaling
Meals
Excursions and
1 Massage
Pick Up & Drop Off
David Gandelman
David Gandelman is a spiritual teacher, author, and guide, whose mission is to awaken souls on their path of growing into being human, and living an enlightened, purpose-driven life.
He is the founder of the Meditation School app, and host of the Meditation School, Energy Matters, and Grounded Sleep podcasts. And his meditations have been streamed millions of times. He has taught at Cornell University, NBC Universal, SAP, and numerous other organizations.
David holds a B.A. in Western philosophy from Rutgers University, which combined with his studies in Eastern spiritual traditions living in the Himalayas, as well as his experience as the director of a school for intuitive development and mysticism in Hawaii, informs a teaching style that connects energetic experience, ancient wisdom traditions, and humor in order to create a safe atmosphere for people interested in learning to meditate and develop into their potential.
Scott Stabile
Scott is the author of Big Love: The Power of Living with a Wide Open Heart, and Just Love. A friend once referred to him as a love activist, and that's a description he happily owns. He writes, speaks, and gives workshops on a lot of subjects — authenticity, trust, fear, compassion, joy, intention, visualization, conditioning, and, of course, love and self-love — always with the intention of reminding you that you are a worthy, whole and loved human being. As is everyone else. He makes a lot of noise for the power of love, and not from naivety. His head isn't in the clouds. He believes love is our greatest healer, and with it at the root of our words and actions, we stand to create real healing in ourselves and our world.
Breathwork beautifully supports all aspects of healing and can be, when we allow it, a direct path to deeper self-love and acceptance. It's with wild enthusiasm and belief that he offers breathwork facilitation in his current work.
Bagus Jati Health and Wellbeing Retreat Center
Bali's premier Health and Wellbeing Retreat, Bagus Jati is set on twelve acres of hillside gardens amongst emerald tinted forests at the north of Ubud, Bali. It is 2,500 feet above sea level with fresh mountain air and a pleasant climate (approx. 68 – 75 degrees Fahrenheit).
All of the accommodations have a comfortable veranda with a relaxing daybed, as well as large windows overlooking the tropical forest.
Bagus Jati offers a holistic retreat with a range of wellbeing facilities and programs, including numerous rejuvenating spa treatments. The restaurant serves outstanding Balinese cuisine and uses fresh, organic vegetables that come from its onsite garden.
Day Trip To Ubud
Prepare for a day filled with exploration and discovery in the cultural heart of Bali—Ubud! From meandering through lush green rice terraces and sacred temples, to immersing yourself in the riotous colors of local markets, this retreat offers you a unique fusion of Ubud's enchanting natural beauty and deep cultural roots. Enjoy the delights of traditional Balinese cuisine, and as the day fades, witness a breathtaking sunset painting the sky. With unforgettable memories forged in just one day, you'll carry a piece of Ubud's magic in your heart forever.
Sunrise Hike to Mount Batur
Embrace the magic of dawn on our sunrise hike to Mount Batur! Standing over 5,500 feet above sea level, this active volcano provides unparalleled beauty as the day breaks, painting the sky with a burst of colors. As you reach the summit, prepare to be awestruck by the panoramic views of shimmering lakes and lush valleys coming alive in the morning light.
This hike is more than just an outdoor adventure; it's a journey within, but it's not easy. It begins before sunrise and is uphill. If you're not up for the hike, feel free to stay back and sleep in!
Mount Batur offers a path of self-discovery against a backdrop of natural beauty.
Visit to Pura Tirta Empul: Indra's Sacred Spring
Prepare for a transformative excursion to Pura Tirta Empul, a sacred temple celebrated for its holy spring, said to be bestowed by the deity Indra. For centuries, this serene sanctuary has attracted individuals seeking to cleanse and renew themselves in its blessed waters. Here, amidst the ornate stone sculptures echoing tales of ancient times, you'll have the unique opportunity to partake in a purification ritual. Dive into the spring pools, let the spiritual essence of the water wash over you as you emerge rejuvenated, even more deeply connected with the spiritual core of Bali.
Sample Itinerary
Here is our 8-day itinerary. Things are subject to change based on weather or other unforeseen circumstances. 
Day 5: Wednesday, May 8th
Accomodation & Pricing Options
Superior Chalet
The Superior Chalet are located in the middle of lavish tropical forest and closed to the "Wos River" that flowing directly to Campuhan, Ubud; well-known as a source of holy water as well as inspiration for holy men and artists. The building design was inspired by Balinese Rice Barn or "Lumbung" which is normally built as a rice/herb storage made of wooden deck raised. Superior Chalet are divided into two stories consist of one bedroom on every level.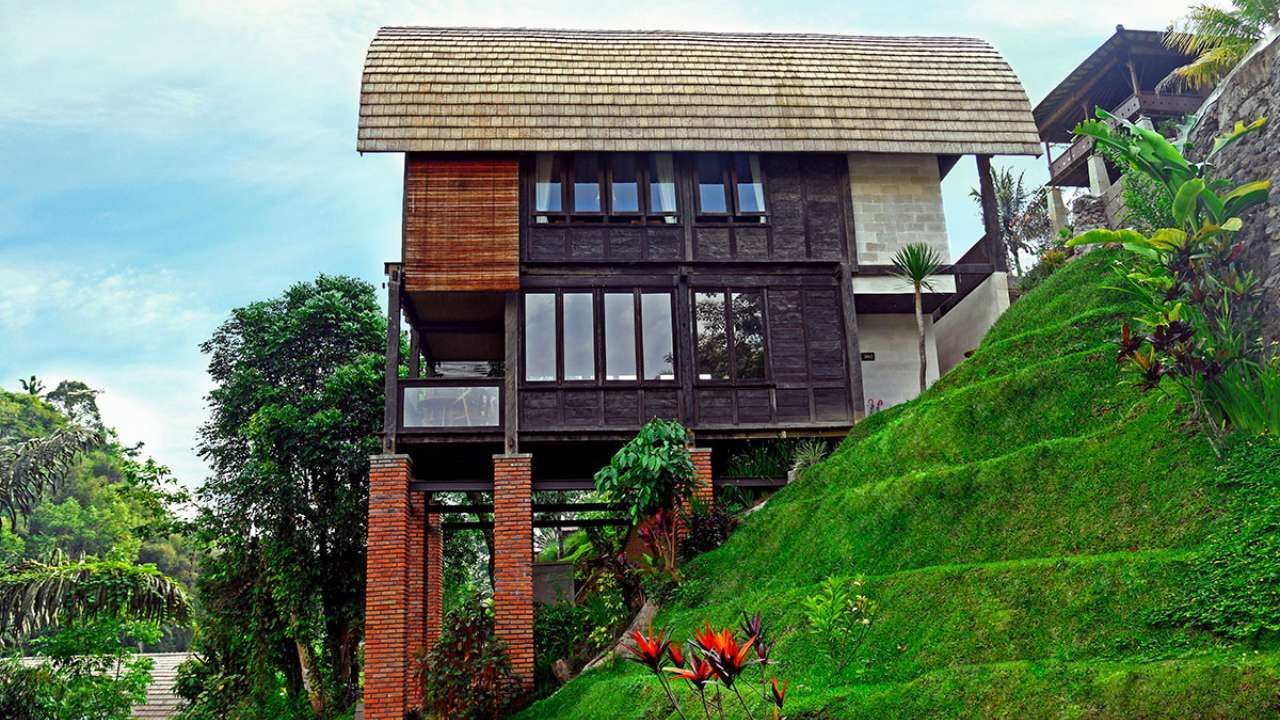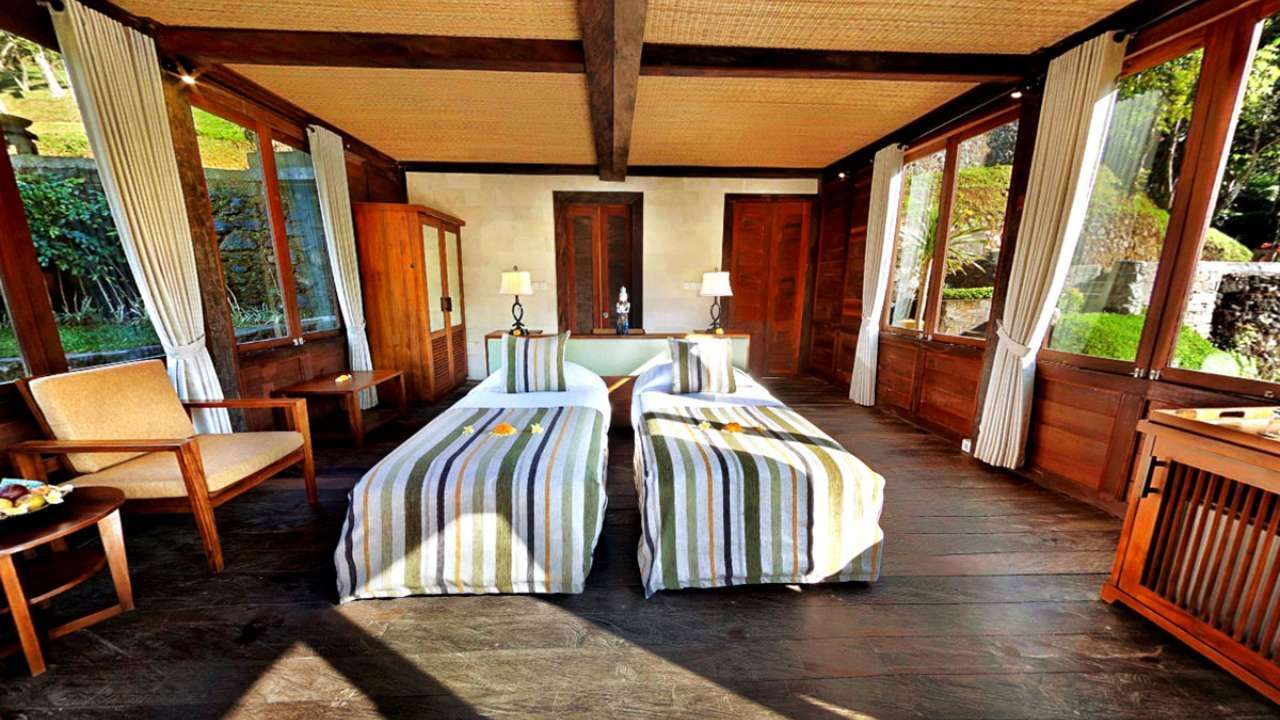 Superior Villa
Superior Villas are located in the middle level on site where you can gaze at lavish tropical forest through the large windows. The bedroom has spacious terrace furnished with comfortable day bed and dining table. When you are lucky, you might sight some exotic animals such as monkey, squirrel along with firefly while winding down under the stars. This private villa is recommended for solo travellers, especially.
Deluxe Villa
Deluxe Spa Villas have a diameter of 100 square meters, with sufficiently space for an extra bed. Bedroom includes canopied king size bed with netting and connecting private dressing room which leads to an integrated private treatment room with massage bed and Jacuzzi tub.
How many people can join the retreat?
Do I need a visa for Bali?
How far is the retreat center from the airport?
What if I have food allergies or dietary restrictions?
What if I don't want to attend every session?
What if I want to stay off site?
What are the teachings going to focus on?
What if I would like a refund before I attend?
Do I need to buy travel insurance for the retreat?
Do you provide airport pickup and drop-off services?
QUESTIONS STILL NOT ANSWERED?
If at any point you have a question, you can email us at [email protected] or fill up this form. We will get back to you within 24 hours.